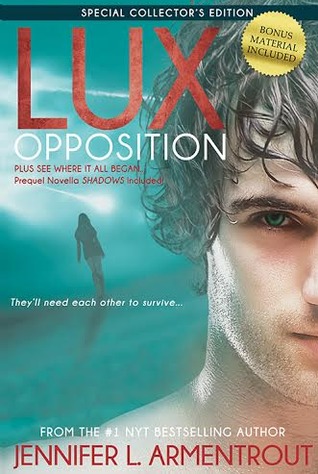 Katy knows the world changed the night the Luxen came.
She can't believe Daemon welcomed his race or stood by as his kind threatened to obliterate every last human and hybrid on Earth. But the lines between good and bad have blurred, and love has become an emotion that could destroy her—could destroy them all.
Daemon will do anything to save those he loves, even if it means betrayal.
They must team with an unlikely enemy if there is any chance of surviving the invasion. But when it quickly becomes impossible to tell friend from foe, and the world is crumbling around them, they may lose everything— even what they cherish most—to ensure the survival of their friends…and mankind.
War has come to Earth. And no matter the outcome, the future will never be the same for those left standing. (Goodreads)
Really, I have nothing much that I can add to this review other than "Just Go Read It." I love the series, love the humor, and the relationships, and the smokin' hot Deamon (though, okay, this is silly but I really don't care for his name itself much...it's just too paranormal romance-y for me, rather than sci-fi, but that's just me!). Anyhow, yep, great conclusion to the series, and I hated to see it end. I debated about just not reading it for a while to drag out the ending, but who am I kidding? I read that sucker in less than a day :)
So, have you checked out the Luxen series?
And if you have, you'll probably LOVE these next titles!!
Ashelyn Drake has two young adult novels releasing September 9th! Yes, two! The first is a YA romantic fantasy called Into the Fire.
Seventeen-year-old Cara Tillman's life is a perfectly normal one until Logan Schmidt moves to Ashlan Falls. Cara is inexplicably drawn to him, but she's not exactly complaining. Logan's like no boy she's ever met, and he brings out a side of Cara that she isn't used to. As the two get closer, everything is nearly perfect, and Cara looks forward to the future.
But Cara isn't a normal girl. She's a member of a small group of people descended from the mythical phoenix bird, and her time is running out. Rebirth is nearing, which means she'll forget her life up to this point—she'll forget Logan and everything they mean to one another.. But that may be the least of Cara's problems.
A phoenix hunter is on the loose, and he's determined to put an end to the lives of people like Cara and her family, once and for all.
Goodreads
Amazon
Barnes and Noble
The second is a young adult contemporary romance called Perfect For You.
Seventeen-year-old Meg Flannigan isn't very self-confident, but what girl would be after her sophomore-year boyfriend dumped her by making out with another girl in front of her locker?
Now a senior, Meg catches the eye of not one, but two gorgeous guys at school. Sounds good, right? What girl wouldn't want to be in Meg's shoes? One cute boy happens to be her boyfriend, and the other? Well, he wants to be. And Meg? She's torn between Ash, the boy she's been with for nearly five months, and Noah who is pretty irresistible.
But Meg is playing with fire. Pitting two boys against one another, even if she doesn't intend to, could end badly if she isn't careful.
Goodreads
Amazon
To celebrate the releases Ashelyn is giving away a SWAG pack that includes:
You know you want to enter, so fill out the rafflecopter. Good luck!
a Rafflecopter giveaway