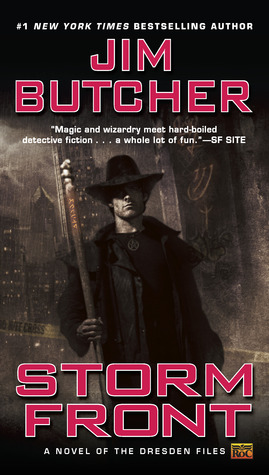 Harry Dresden -- Wizard
Lost items found. Paranormal Investigations.
Consulting. Advice. Reasonable Rates.
No Love Potions, Endless Purses, or
Other Entertainment.
Harry Dresden is the best at what he does. Well, technically, he's the only at what he does. So when the Chicago P.D. has a case that transcends mortal creativity or capability, they come to him for answers. For the "everyday" world is actually full of strange and magical things — and most of them don't play well with humans. That's where Harry comes in. Takes a wizard to catch a — well, whatever.
There's just one problem. Business, to put it mildly, stinks. So when the police bring him in to consult on a grisly double murder committed with black magic, Harry's seeing dollar signs. But where there's black magic, there's a black mage behind it. And now that mage knows Harry's name. And that's when things start to get… interesting.
Magic. It can get a guy killed. (Goodreads)
I've heard about this series so many times from so many different people that I thought it was about time to check out what all the fuss was about. And honestly, it was an interesting and entertaining novel. I didn't particularly dislike it, nor did I particularly find myself enamored with it. Honestly, the thing was that I felt that Harry (what is it with wizards named Harry? Huh? Can someone explain that to me?) was a little flat. I kept feeling like I'd get to see more into his mind and motivations, maybe a little into his emotions and person, but honestly, it just wasn't there, and that left me unable to get behind him in the story. While reading, I began to wonder if perhaps it was because the MC was male that I wasn't getting into the story as much as normal, but I've read plenty of novels where I'd felt a connection with the male MC, and felt they were much more fleshed out, so who knows. At any rate, it was an interesting novel, one that I enjoyed for it's quick pace and really interesting world, but not something that left me particularly inclined to read on in the series.
Okay, not to beat a dead horse with this sign up, but it's here should you be interested, m'k? :)