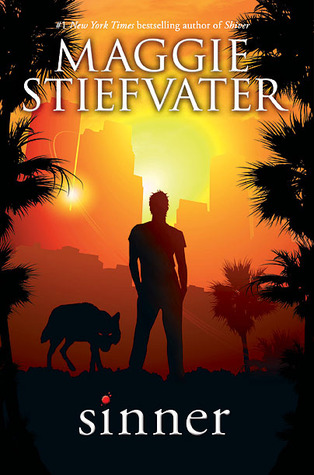 found.
Cole St. Clair has come to California for one reason: to get Isabel Culpeper back. She fled from his damaged, drained life, and damaged and drained it even more. He doesn't just want her. He needs her.
lost.
Isabel is trying to build herself a life in Los Angeles. It's not really working. She can play the game as well as all the other fakes...but what's the point? What is there to win?
sinner.
Cole and Isabel share a past that never seemed to have a future. They have the power to save each other and the power to tear each other apart. The only thing for certain is that they cannot let go. (Goodreads)
The Wolves of Mercy Falls are such wonderful books. I love falling into that world and enjoy Stiefvater's writing so much. The same goes for Sinner. The writing and emotion behind them always shine through so incredibly well. And Cole and Isabel are such troubled, fascinating characters that it was hard to escape their world, even when I wasn't reading. One thing that stuck out to me, and which always hits me during one of her books, is how well the characters know themselves. They seems to have a solid grasp on their reasoning (even if flawed) and actions. It's what helps make their characters so amazingly real. (It is also rather strange for me to read, as someone who doesn't feel that way about myself whatsoever, but hey, it's interesting!) Other than that, the wolf bit did feel a tad tacked-on in this book, and I found myself viewing it more as a metaphor for drugs, but that didn't detract from the novel overall. The ending was satisfying in a silly-grin sort of way, which was what I was looking for :)
Have you caught any of this series? What did you think about this book?