So, just by way of reminder, it's ONE MONTH until the release of this book. Eeep! I am SO stoked (and SO nervous), but you'll undoubtedly be hearing more about this as the time draws closer. And closer. And then all hell breaks loose ;)
Or, ya know, you could allay some of my fears and preorder it...
*There's an awesome giveaway going on if you do happen to pre-order, too!*
(Check out those details on my newsletter and get to ordering!
Okay, so on to what I've been reading: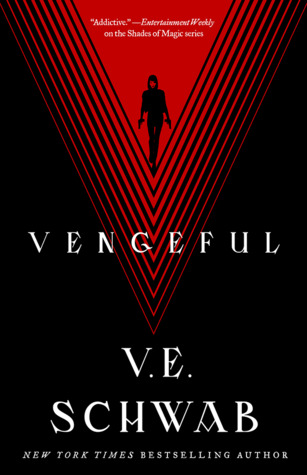 The sequel to VICIOUS, V.E. Schwab's first adult novel.
Sydney once had Serena—beloved sister, betrayed enemy, powerful ally. But now she is alone, except for her thrice-dead dog, Dol, and then there's Victor, who thinks Sydney doesn't know about his most recent act of vengeance.
Victor himself is under the radar these days—being buried and re-animated can strike concern even if one has superhuman powers. But despite his own worries, his anger remains. And Eli Ever still has yet to pay for the evil he has done.
(
Goodreads
)
This is one of those books that I sank into and just loved every minute of swimming through the world. It was fascinating, dark, and utterly poignant. The characters Schwab portrays are so well done. I love their layers and the fact that all of them exist in some level of gray--not terribly bad people, but also not terribly good. Add in a few that are awful but think they're saviors. It's delicious. And because I've written a lot lately about horribly clever and dastardly compounds where people are taken and locked up by outside forces seeking to exploit them (no spoilers here! Hehe!), I was particularly pleased with the one in this book--a very good job at what some of my worst fears are of just such a place. Anyhow, I do hope this series continues because I utterly love it!