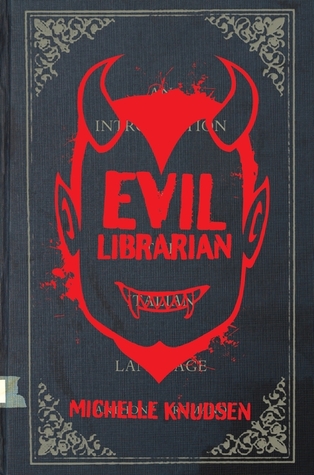 He's young. He's hot. He's also evil. He's . . . the librarian.
When Cynthia Rothschild's best friend, Annie, falls head over heels for the new high-school librarian, Cyn can totally see why. He's really young and super cute and thinks Annie would make an excellent library monitor. But after meeting Mr. Gabriel, Cyn realizes something isn't quite right. Maybe it's the creepy look in the librarian's eyes, or the weird feeling Cyn gets whenever she's around him. Before long Cyn realizes that Mr. Gabriel is, in fact . . . a demon. Now, in addition to saving the school musical from technical disaster and trying not to make a fool of herself with her own hopeless crush, Cyn has to save her best friend from the clutches of the evil librarian, who also seems to be slowly sucking the life force out of the entire student body! From best-selling author Michelle Knudsen, here is the perfect novel for teens who like their horror served up with a bit of romance, plenty of humor, and some pretty hot guys (of both the good and evil variety). (Goodreads)
Thanks to LibraryThing and Candlewick Press for this awesome read!
This book would be so easy to sum up as: just go read it!!! Seriously, it was utterly awesome. As in, I stayed up into the wee hours, laughing my rear end off, and LOVED it. The main character, Cyn, has the best voice I've read in a very long time, and I was completely captivated by it. The story was spooky, and while being rather sinister (there are definitely demons of the hellish variety), it was almost farcical in some regards just because of the main character's voice. I don't know if that's the best way to describe it, but honestly, I loved it. I would have liked to see a bit more about a particular random guy, Adam, who played a small role and felt a little, well, convenient in places, but otherwise, I just got a real kick out of the story. And Ryan? (Yeah, partial to the name for obvious reasons...) Totally swoonworthy. And I enjoyed watching Cyn's attraction, and reaction, toward him. To top things off, I was really gratified to see an awesome friendship between Cyn and her BFF. Cyn wasn't willing to just give up on her friend and was willing to go to hell and back (literally) for her. That won major points from me! Basically, if you're up for an awesome teen voice and great read, this one's for you!
And if you think you like the sound of Evil Librarian, definitely check out An Absence of Light--I definitely think the two have a similar market. Oh, and there's this giveaway still going on, so go enter, spread the word, and make this author very happy! :)
Enter to win